Super Mario Brothers Nintendo Bandages
Bruises can be fun too, especially when you get to flaunt these cute Super Mario Nintendo bandages. There has been a surge of products that take inspiration from movie characters, comic book superheroes and the like. However, we haven't seen a lot of drawing board activity on the game character front. The Mario bandages hopefully should usher in a new era of accessories and collectibles that borrow design themes from popular Nintendo characters like the iconic Mario Brothers.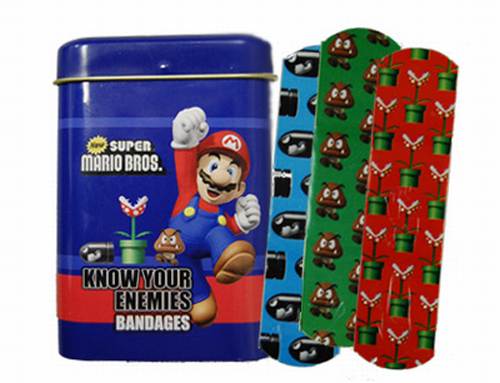 We hope the Super Mario Brothers Nintendo bandages could chase pain away. However, we need to be content with just the mental distraction that these cool bandages provide. They, in fact, evoke feelings of nostalgia – of similar releases in the early 1990's. Yet, they can create a niche of their own, thanks to the wide assortment of characters that are incorporated into the strips. Some of these include Bullet Bill, Goomba Mushroom and Piranha Plant. The bandages come in a tin of 15 and are priced competitively at $3.99. For those without rubber latex allergies, getting physically hurt can now be something you can look forward to, right?
Via: Perpetualkid