Super Mario Bros Mushroom Tins With Candies
Kids are going to love these Super Mario Bros Mushroom Tins full of sour candies. Nintendo Super Mario Bros are hot favorites not only with gamers but  have inspired many designs too. Here cute bros come both in the form of colorful candies tin containers and sour candies within.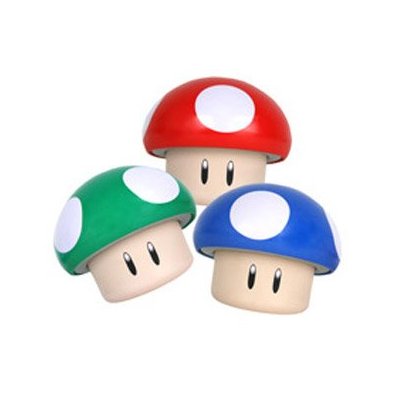 Kids and adults will love to keep this trendy container close at hand and pop the goodies inside. Once the candies are eaten kids will love to have this tin to keep their little play toys and or even Super Mario Key Chains. Even mothers will love to put these coloful containers to some good use.
Super Mario Bros come in set of three tins; each different color, depending upon the candies flavor. The flavors available are Cherry, Blue Rasberry and Apple. Priced at $8.75 for the set of three, you can order them here. In fact if you are lucky you may get some special discounts. They will go very well with party theme if you plan to invite kids over to share Super Mario Cake this weekend.