Mario Kart Arcade GP DX Racing Towards U.S. Arcades in 2014
Watch out for red shells on the road, the arcade version of Mario Kart heads to American arcades next year.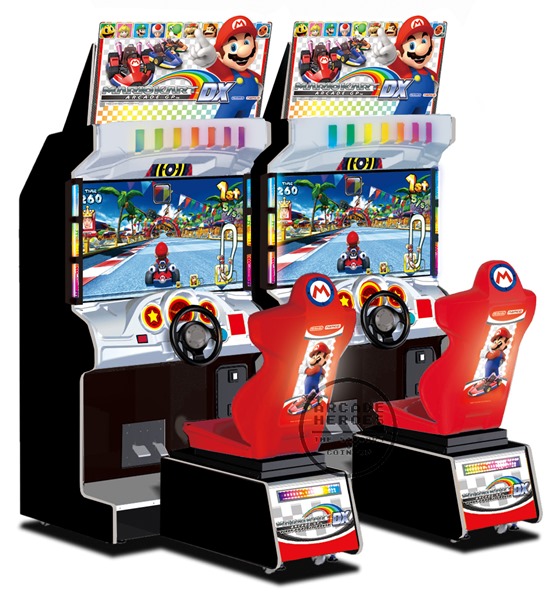 Thrills of racing the circuits in the upcoming installment of Mario Kart won't just be bound to the Nintendo Wii U. Arriving to arcades in the United States (if you can still find one in your neck of the woods) in 2014, is Mario Kart Arcade GP DX. As the name implies, this is the arcade equivalent to the popular Nintendo go-kart series with a cabinet that features a steering wheel, pedals, and driver's seat.
Tested and released in Japanese arcades way back in July of this year, this third installment of the Mario Kart Arcade GP series (co-created by Namco Bandai and often features cameos by Pac-Man himself) takes the harvest of its courses from Mario Kart 7 on the 3DS. Not a bad selection if I do say so myself, especially with the nifty additions of hang gliding and underwater track sections that are a feast o' fun.
Mario Kart Arcade GP DX is typically linked both side-by-side, but in Japan the game is also linked via online where players can compare track times across the country. Racers can even insert memory cards to save their race data, but there's no confirmation if online linked play will be available in the U.S. edition of the game. Neither has it been confirmed that you'll get to play as a Japanese taiko drum like in this following trailer (please someone, say yes).
I guess I'll have to search the likes of Dave and Busters to take a spin on one of these cool machines; I've always wanted to experience Mario Kart in a race car cabinet, and now I've got my chance. Hopefully you'll get yours, too.
For more Nintendo news, on upcoming system firmware updates coming in December, and a closer look at The Legend of Zelda: A Link Between Worlds golden Nintendo 3DS, keep it right here on WiiNoob.