Awesome Mario 25th Anniversary Train
For almost two months we've been seeing and hearing about tributes to Super Mario, thanks to the character's 25th anniversary. What's next?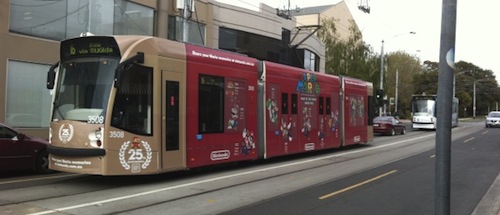 This time, it's a train in Melbourne, Australia. It's fascinating to look at, and we hope to see this degree of 25th anniversary celebration for Mario stateside. Either way, the train is a beautiful piece of art, and  I have to say that I wouldn't mind riding this thing to work every morning.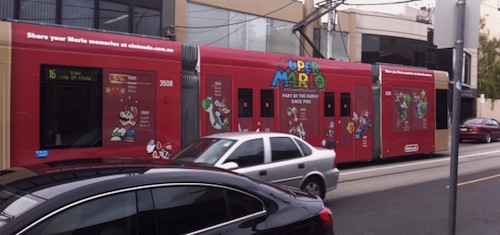 The train fits the overall theme of the Super Mario 25th anniversary with the Mario red and the gold color that commemorates the 25-years of Mario. It adds a neat element by taking Mario through the years. The frontmost section of the train shows Super Mario Bros. Mario then takes the character's art style through the various games until finally reaching Super Mario Galaxy 2.
The Mario red color scheme is also hitting a special edition Wii and a special edition DS in North America. The coolest part of this train is that the paint job is an official Nintendo effort. Even though we've seen some beautiful Nintendo-themed art in the past, this is one of the few times we've seen it as something officially put together by Nintendo.
Unlike some of the other cool things we've seen though, and unlike a special edition DS or Wii, we can't take this baby home with us. The truth is…I would like to. I just wouldn't have a place to put it. Nor would I be able to drive it, because it wouldn't have a track and all.
If you are interested in seeing some of the other Super Mario Bros. 25th anniversary gear, check out this Nintendo DSi, or this special edition Wii, which will be coming Stateside very soon.
Via: Walyou